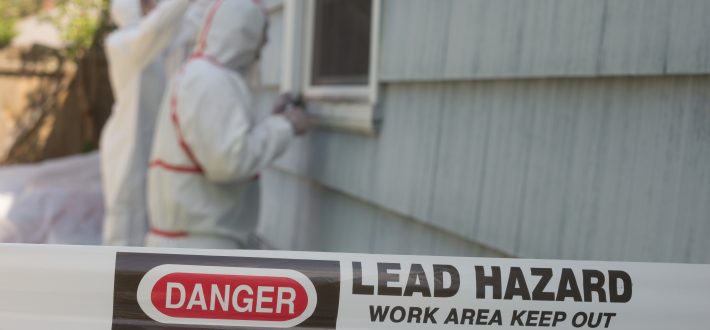 26 July 2017
Lead Paint Poisoning
Lead paint has a longstanding legacy for the Baby Boomer generation. The lead paint used on toys and in household products carries a notorious reputation of causing lead poisoning in adults and children alike. While many modern homes have been long since freed of the worries of lead paint contamination, many old commercial buildings in metro areas like New York still have contaminants like lead and asbestos hiding in their walls. Uninspected paint and pipes can still contain lead and create potential health risks. Manufacturing, construction and utility companies might even find lead paint lingering on older machinery and tools around the workplace. It takes proper inspections, like those done by Airtek Environmental, to confirm that a building is safe and lead-free.
Lead has been used as a base material for many products since the Colonial era of the United States. Lead-based pigmentations were incorporated in paint production in these early days, and the use of lead in paint increased over the decades. In 1922, lead-based paint production peaked, and most paints contained lead until around the end of 1978 when a full federal ban of lead paint in consumer products was issued. The solder used on pipes and metal air ducts also contained lead until 1986. This means in the average commercial building built before 1980 employees and customers are potentially being exposed to lead in both the air and the water daily.
Identifying Lead Paint Poisoning Symptoms
In 1904, the medical community was starting to link lead paint exposure to lead poisoning identified in children. Typically, when we talk about lead paint poisoning symptoms, we discuss its effect on children. While lead paint poisoning symptoms differ by age group, it is important to recognize that lead paint poisoning can affect adult employees just as much as it affects children. Even low levels of exposure to lead can lead to health problems over time, so it is important to watch for employee complaints about:
Muscular, joint or abdominal aches and pains
High blood pressure
Headaches
Sudden mood disorders
Problems with memory or an inability to focus
Ongoing or high levels of exposure to lead can lead to damage to the kidneys, the reproductive system or the nervous system if left unchecked. In buildings with the critical levels of lead contamination, exposed workers can die from poisoning. Sometimes lead is buried under layers of paint and is contained, but if the top layers of paint peel away or deconstruction occurs, lead paint can be exposed to employees or contracted construction workers. If lead-contaminated dust gets into the air, surrounding buildings and their employees may also be affected by the contaminants as could the soil surrounding the building.
Airtek Environmental Can Help You with Lead Removal
Since 1988, Airtek Environmental has been providing professional lead-based paint sampling and surveys for businesses in New York. Our inspection teams consist of USEPA licensed lead-based paint inspectors and risk assessors that have extensive training in proper sampling techniques and high-quality testing of collected samples. Our factory-trained professional inspectors use X-ray Fluorescence technology to find lead in paint, dust, and water samples. This, along with lead-in-air sampling done through monitoring, creates a thorough set of data that will confirm that any lead present on company property is identified. This way, company owners can start working with Airtek Environmental to being building a plan for decontaminating a building to make it safe for continued use or renovations.
For lead removal or lead management specialists, Airtek Environmental also provides expert training and provides a lead training certification for those that complete the courses successfully. Training classes are available for a variety of positions including handlers, risk assessors, inspectors, and supervisors. We also provide refresher courses for those that need to revisit training after certification.
Creating a safe working environment is essential to running a business with healthy, productive employees. Scheduling regular environmental assessments of buildings, especially those about to undergo renovation or deconstruction, is important to avoid unwanted fines from OSHA for breaking regulations. Airtek Environmental has the best-trained inspectors available to help businesses identify and rectify problems with contaminants and health hazards. Contact Airtek Environmental today at (718) 937-3720 to schedule an inspection for your business.